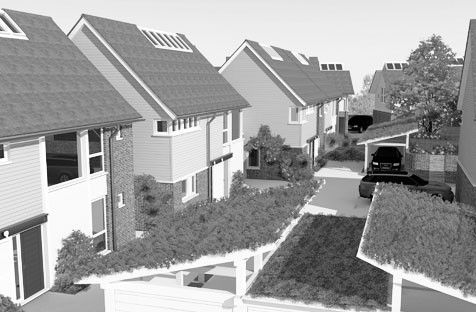 Sustainability For Small Housebuilders
Housebuilder Environ Communities has pledged to build greener homes, starting at Keeper's Court in Kings Hill. Here, the team behind the project explain what that means.
Wiltshire based housebuilder, Environ Communities has pledged to make its homes more sustainable, not only for environmental reasons, but because it believes the approach makes good business sense.
Executive chairman Tony Dowse says sustainability is a way of giving its homes a premium in a tough market, and believes energy efficiency in particular will become increasingly important as a differentiator in the housing market: "Fuel prices will rise and we think it's essential to provide a house with minimum running costs. Fuel prices will make people start looking for houses that are economical to live in."
The housebuilder was no slouch in the green building stakes before taking this stance, having picked up a number of awards for sustainable development for its innovative schemes at Kings Hill in West Malling. The company developed the Lacuna scheme there using Canadian Super E timber technology, and reverted to traditional construction for its Oaks Hamlet phase. With its upcoming Keepers Court phase of 10 houses, however, the firm is making a clear statement about the way it is developing its product.
What does the buying public want?
The homes are designed by CDP Architecture to Code for Sustainable Homes level 4 and near Passivhaus standard, which might be considered cautious for a developer that is marketing sustainability. But Dowse believes the buying public will appreciate many facets of sustainability: "We've got to find a way to be sustainable and give the customers what they want. A sustainable house is one that isn't toxic and is low maintenance, for example."
Like many in housebuilding, Dowse is an advocate of the 'fabric first' approach, saying: "The Swedes have had it right for years in focusing on the fabric. It's easy to over-complicate matters."
The company has decided to build both walls and roofs of the homes using Kingspan's TEK structural insulated panels (SIPs). Windows will be fixed on site. Dowse says timber frame will be the build method of choice from now on: "What appeals to us with timber frame is the speed. Our land holding time and finance costs for the build are significantly reduced. We can put in the foundations and infrastructure and then call off units according to our sales rate."
There's another reason for making a shift to modern methods of construction, he adds. "Every year it gets harder and harder to build traditionally and get quality of build."
The architect has not used the Kingspan system before, but director Andrew Tull sees benefits: "With SIPs we're getting engineering and flexibility. It has an integrity about it."
The homes have been designed for manufacture, being based on a 'nucleus unit' that has additions according to its location on the site. Tull says: "The rigidity of timber frame can create certain constraints if you are creating open plan layouts. There are limitations. You want to use a system, but you don't want to be dominated by it. It is simply something you need to bear in mind."
Dowse describes his new housebuilding approach as "a systems component approach" rather than a manufactured home. He chooses those words because, he says "we're still not into the concept of housing being a factory-produced product."
Tull suggests why that might be the case: "One of the issues in this country is that it's relatively small and housing density is fairly high, so standard systems limit your ability to maximise land value. Land values are so high."
The SIPs roof panels do help to maximise land value by providing usable lofts. That is another sustainable feature, says Dowse. Keep the house simple. The homes are heated largely using a Paul Campus 500 mechanical ventilation with heat recovery (MVHR) unit, with integral electric heater battery. Water is warmed by immersion heater.
The housebuilder is trialling a Velux solar panel/thermal hot water generation system on one home, but is generally not fitting renewable energy technologies. Instead it is installing a quadruple Velux to let in maximum daylight and allow for solar/photovoltaic technology to be integrated easily later.
There are a host of other consumer-friendly green features from electric vehicle charging points to green roofs on the carports, but the scheme as a whole is light on technology. That's exactly the intention, says Dowse. While he and Tull are happy to be trialling the Velux product, they have some concerns about over-reliance on technologies. Tull says: "Everything is moving so fast. An M&E consultant has one message one day, and a different one the next. Performance characteristics aren't tested over the long term. It is difficult when you are trying to plan for the life of a house."
Dowse agrees: "It is difficult to feel you're getting the right advice. We ask where products have been used and how they have been used. We've learned it is no good compromising. You have to go for the best solution."
Interview by Jo Smit, editor of Building4change.com